General Tips
Tutorial Videos
Product Search Ads
Shop Search Ads
Discovery Ads
User Guide
General Tips
Improve Your Product Detail Page for Successful Advertising
Advertising can bring shopper's attention to your product, but to successfully convert ad clicks into sales, you need a compelling product detail page. The product detail page is where shoppers can find out more about your product in order to make a purchase decision.
4 key parts of a product detail page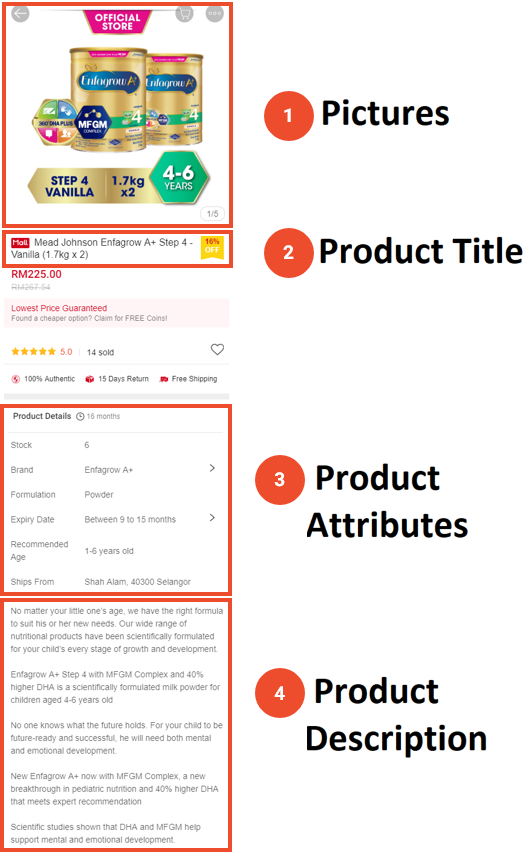 How do I improve my product detail page?
Pictures
Pictures allow shoppers to see your product and can often become a determining factor of purchase. As a general rule of thumb, use pictures that are informative, visually attractive, easy to understand and relevant to shoppers.
Here's a quick checklist for your pictures:
1. Check that the product is well-lit and properly focused in the pictures
2. Ensure that the product occupies more than half of the picture;s space
3. Use realistic pictures of the actual product, as such no exaggeration of product features or drawn illustration
4. Use high resolution pictures of at least 1024 x 1024 pixels
5. Use square pictures with a 1:1 size ratio
6. Your pictures can include:
a. Your product from different angles (e.g. side, top, close up, etc.)
b. All the available variations, if any (e.g. colours, motifs, etc.)
c. Product packaging
d. Informational images with text or chart (e.g. shirt size chart, ingredient list, etc.)
e. Informational images on how to use the product
f. Images that show your product size relative to a human using it
7. Your pictures should not include accessories which are not part of the purchase
8. Avoid pictures with any watermark or other distracting graphics
9. Choose the most attractive and informative picture as your main picture
10. Showcase your product on a clean and simple background. Use a plain white background for the main picture
Example of a picture that meets the recommended standard:

Examples of pictures that do not meet the recommended standard:

Product title
The product title tells shoppers what your product is before they click into your product detail page.
Here are some guidelines for a good product title:
1. Keep the title informative, concise and easy to understand
2. Include any brand, product line, model and distinctive features such as material, key ingredient, colour, size and quantity, if available
For example:
a. Akemiuchi [brand]
b. Akemi Autograph [product line]
c. Trimage [model]
d. Cotton Sateen, 750-thread-count [material and key ingredient]
e. Pillow Cases (blue, queen, set of 2) [colour, size and quantity]
3. Avoid spamming your product title with irrelevant or inaccurate details that will confuse shoppers and lower your search listing visibility
4. Capitalise the first letter of each word and avoid using ALL CAPS
Product attributes
Product attributes provide additional vital information about your product. Accurate and complete product attributes also help improve your search listing visibility.
Here's how to write your product attributes:
1. Fill in mandatory attributes and ideally all optional attributes
2. Fill in your attributes accurately and comprehensively
3. Make sure that there are no typos
Product description
Your product description provides compelling additional information in greater details to convince interested shoppers to buy your product.
Here's how to write your product description:
1. Keep your product description as informative and succinct as possible
2. Highlight the most attractive, relevant or differentiating product features at the top of your product description, such as:
a. Warranty
b. Signs of high product quality (e.g. country of origin, high concentration of active ingredients, craftsmanship, age statement for items like wine and whisky)
c. Statements of product exclusivity (e.g. collector's edition, small batch collection, Chinese New Year edition)
3. Place less important details at the bottom of your product description. This could include colour, size, material, measurement, expiry date and product care instructions
4. Update your product description regularly, e.g. change in product specifications, adjusting your product description to be clearer and understandable to buyers
Was this page helpful?
Yes
No
4 key parts of a product detail page
How do I improve my product detail page?
How to Use Ads

Improve Your Product Detail Page for Successful Advertising

Advertising can bring shopper's attention to your product, but to successfully convert ad clicks into sales, you need a compelling product detail page. The product detail page is where shoppers can find out more about your product in order to make a purchase decision.




4 key parts of a product detail page




How do I improve my product detail page?

Pictures

Pictures allow shoppers to see your product and can often become a determining factor of purchase. As a general rule of thumb, use pictures that are informative, visually attractive, easy to understand and relevant to shoppers.




Here's a quick checklist for your pictures:

1. Check that the product is well-lit and properly focused in the pictures

2. Ensure that the product occupies more than half of the picture;s space

3. Use realistic pictures of the actual product, as such no exaggeration of product features or drawn illustration

4. Use high resolution pictures of at least 1024 x 1024 pixels

5. Use square pictures with a 1:1 size ratio

6. Your pictures can include:

a. Your product from different angles (e.g. side, top, close up, etc.)

b. All the available variations, if any (e.g. colours, motifs, etc.)

c. Product packaging

d. Informational images with text or chart (e.g. shirt size chart, ingredient list, etc.)

e. Informational images on how to use the product

f. Images that show your product size relative to a human using it

7. Your pictures should not include accessories which are not part of the purchase

8. Avoid pictures with any watermark or other distracting graphics

9. Choose the most attractive and informative picture as your main picture

10. Showcase your product on a clean and simple background. Use a plain white background for the main picture

Example of a picture that meets the recommended standard:




Examples of pictures that do not meet the recommended standard:




Product title

The product title tells shoppers what your product is before they click into your product detail page.




Here are some guidelines for a good product title:

1. Keep the title informative, concise and easy to understand

2. Include any brand, product line, model and distinctive features such as material, key ingredient, colour, size and quantity, if available

For example:

a. Akemiuchi [brand]

b. Akemi Autograph [product line]

c. Trimage [model]

d. Cotton Sateen, 750-thread-count [material and key ingredient]

e. Pillow Cases (blue, queen, set of 2) [colour, size and quantity]




3. Avoid spamming your product title with irrelevant or inaccurate details that will confuse shoppers and lower your search listing visibility

4. Capitalise the first letter of each word and avoid using ALL CAPS




Product attributes

Product attributes provide additional vital information about your product. Accurate and complete product attributes also help improve your search listing visibility.




Here's how to write your product attributes:

1. Fill in mandatory attributes and ideally all optional attributes

2. Fill in your attributes accurately and comprehensively

3. Make sure that there are no typos




Product description

Your product description provides compelling additional information in greater details to convince interested shoppers to buy your product.




Here's how to write your product description:

1. Keep your product description as informative and succinct as possible

2. Highlight the most attractive, relevant or differentiating product features at the top of your product description, such as:

a. Warranty

b. Signs of high product quality (e.g. country of origin, high concentration of active ingredients, craftsmanship, age statement for items like wine and whisky)

c. Statements of product exclusivity (e.g. collector's edition, small batch collection, Chinese New Year edition)

3. Place less important details at the bottom of your product description. This could include colour, size, material, measurement, expiry date and product care instructions

4. Update your product description regularly, e.g. change in product specifications, adjusting your product description to be clearer and understandable to buyers

Was this page helpful?

Yes

No