General Tips
Tutorial Videos
Product Search Ads
Shop Search Ads
Discovery Ads
User Guide
General Tips
Setting Up Search Ads for Your Products Well
How do I choose the right products?
It is important to select the right products to advertise based on your business goals:
Grow sales
Focus on your bestsellers with high monthly sales and products with great sales potential, such as promotional products.
Boost profit
Focus on products that sell well, especially those with high organic profit margin.
Increase exposure of new products
Choose new products to boost their exposure and test their market potential.
Hint: Choose products with the 'thumbs up' icon in the product selector. These items are recommended for ads as they have high sales and conversion rates.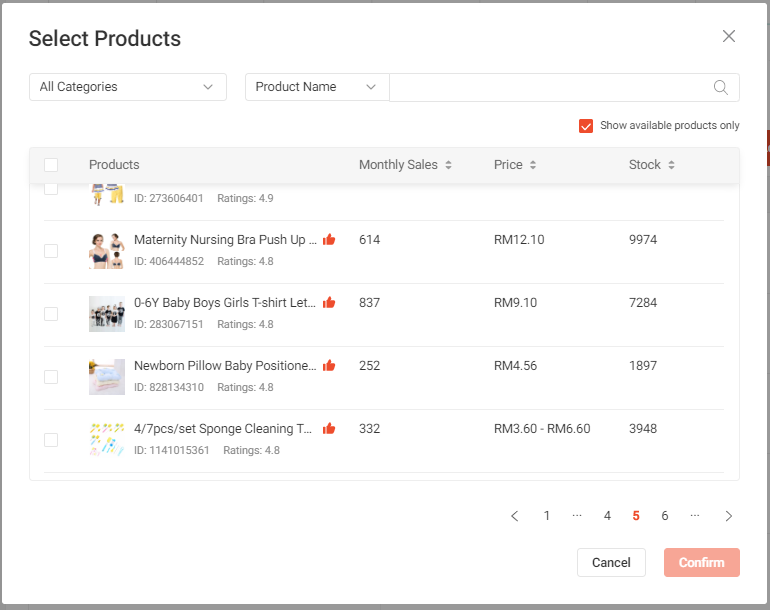 How do I set my budget and ad duration?
You can set your budget and time length for your Product Search Ads before publishing them.
The default mode is "No Limit" for your budget and "No Time Limit"

You can choose to "Set Budget" and "Set Start/End Date" for each ad. If you "Set Budget", your ad will stop running once your budget is depleted.

The minimum daily budget required is RM2.

The minimum total budget required is RM20.
Can Shopee Choose and Manage Product Search Ads for me?
Use Auto-Selected keywords to let Shopee's system select keywords relevant to your product and optimise them for you. Auto-Selected Keywords is currently in Beta Mode and only open to selected sellers.
Use this setting if you prefer to set up and manage your ads with minimal effort and time investment, or if you're unsure how to choose keywords. Click here for tips on using Auto Selected keywords.
Note that if you are setting up new Product Search Ads through Shopee app, this setting will be automatically toggled on. To turn it off or manually set keywords, please log into your Seller Center via a browser.
How do I set my keywords, match types and bid prices manually?
If you are an advanced user, or if you would like your ad to appear at the very top of the search results for certain keywords, you can select your own keywords and bid prices for your ads. You can also choose different match types for keywords.
Broad Match(default)
Your ad will appear on the search results page when buyers search for relevant variations of your keywords, even if their searches do not contain your keywords.
Exact Match
Your ad will only appear when shoppers search for the exact keyword you've placed a bid for.

Now, you need to set a bid price for each manually selected keyword.
Your ad ranking will depend on your quality score and bid price
The quality score depends on a variety of factors, including your shop rating, your item's sales, reviews and name.
The higher the quality score, the lower you will need to bid for your ad to enter the top few positions
Using the suggested bid price ensures that your ad will appear in the top few positions.
The suggested bid price for Broad Match is 20% higher than for Exact Match.
You can still adjust your bid price after your Product Search Ads have gone live.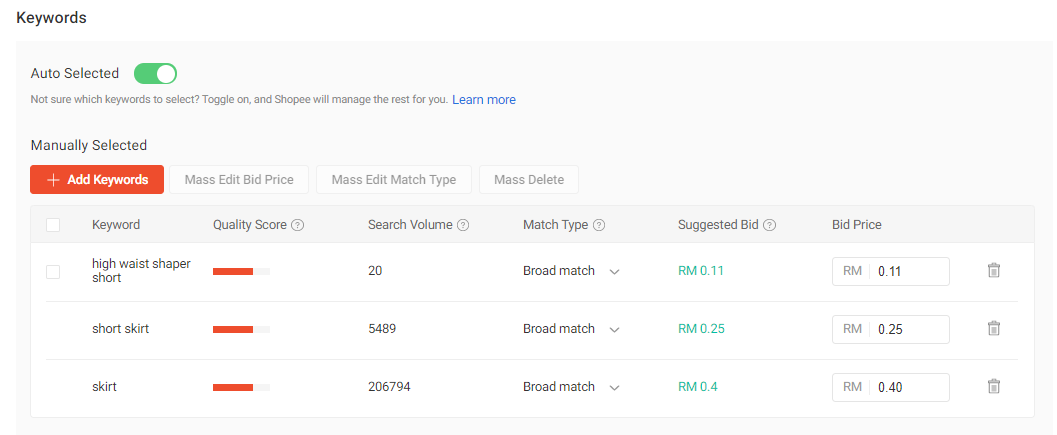 Here are some strategies for selecting keywords, match types and bid prices based on your objectives:
Increase exposure

Use at least 10 keywords per product, including synonyms or variations of keywords relevant to your advertised product. For example, for the product below, you can use "shoes", "sneakers", "sports shoes", "sporty shoes", "outdoor shoes", "dance sneakers", "dance shoes", etc.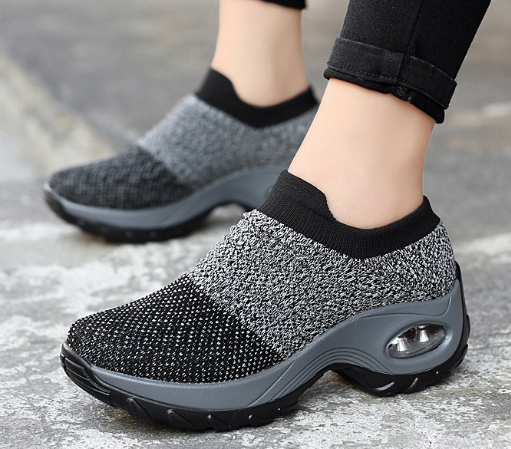 Choose all relevant keywords suggested by the Shopee system and add your own.

You can always optimise your ads afterwards by removing keywords that have performed badly.

Use Broad Match for your keywords to reach a wider audience.

Bid competitively and try the suggested bid price.
Increase sales
Use a combination of Broad Match and Exact Match to maximise traffic to your product detail page, where shoppers make purchasing decisions.
For a start, bid for popular and relevant keywords that shoppers would use to look for your product, such as "sweater" or "pullovers".
For Broad Match, use generic, popular and relevant keywords that shoppers would use to look for your product, such as "sweater" and "Adidas sweater".
For Exact Match, use specific and relevant keywords that shoppers would use to look for your product, such as "Adidas sporty sweater" or "Adidas blue sweater".
To save costs, only bid for keywords that are directly relevant. For example, if your item is an iPhone 8 case, bid for "iPhone case" or "iPhone 8 case", not "iPhone" or "iPhone 8".
Bid competitively and try the suggested bid price.
Increase profit

Target the most relevant keywords shoppers would use to look for your product.

Include highly specific keywords such as "dark-roast coffee" instead of "coffee".

Highly specific keywords tend to be cheaper per click and can attract more relevant shoppers to your product.

Focus on using Exact Match to drive relevant traffic to your product.

If more ad exposure is needed, use Broad Match but set to a lower bid price.
How do I set up and edit Product Search Ads step by step?
Please refer to the user guide.
Can I set up and modify my Product Search Ads via Shopee app?
Yes, you can now set up and modify your Product Search Ads using Seller Centre via browser or Shopee app. Please refer to the user guide.
Was this page helpful?
Yes
No
How to Use Ads

Setting Up Search Ads for Your Products Well

How do I choose the right products?

It is important to select the right products to advertise based on your business goals:




Grow sales

Focus on your bestsellers with high monthly sales and products with great sales potential, such as promotional products.




Boost profit

Focus on products that sell well, especially those with high organic profit margin.




Increase exposure of new products

Choose new products to boost their exposure and test their market potential.




Hint: Choose products with the 'thumbs up' icon in the product selector. These items are recommended for ads as they have high sales and conversion rates.










How do I set my budget and ad duration?

You can set your budget and time length for your Product Search Ads before publishing them.




The default mode is "No Limit" for your budget and "No Time Limit"

You can choose to "Set Budget" and "Set Start/End Date" for each ad. If you "Set Budget", your ad will stop running once your budget is depleted.

The minimum daily budget required is RM2.

The minimum total budget required is RM20.




Can Shopee Choose and Manage Product Search Ads for me?

Use Auto-Selected keywords to let Shopee's system select keywords relevant to your product and optimise them for you. Auto-Selected Keywords is currently in Beta Mode and only open to selected sellers.




Use this setting if you prefer to set up and manage your ads with minimal effort and time investment, or if you're unsure how to choose keywords. Click here for tips on using Auto Selected keywords.




Note that if you are setting up new Product Search Ads through Shopee app, this setting will be automatically toggled on. To turn it off or manually set keywords, please log into your Seller Center via a browser.




How do I set my keywords, match types and bid prices manually?

If you are an advanced user, or if you would like your ad to appear at the very top of the search results for certain keywords, you can select your own keywords and bid prices for your ads. You can also choose different match types for keywords.




Broad Match(default)

Your ad will appear on the search results page when buyers search for relevant variations of your keywords, even if their searches do not contain your keywords.




Exact Match

Your ad will only appear when shoppers search for the exact keyword you've placed a bid for.




Now, you need to set a bid price for each manually selected keyword.

Your ad ranking will depend on your quality score and bid price
The quality score depends on a variety of factors, including your shop rating, your item's sales, reviews and name.
The higher the quality score, the lower you will need to bid for your ad to enter the top few positions
Using the suggested bid price ensures that your ad will appear in the top few positions.
The suggested bid price for Broad Match is 20% higher than for Exact Match.
You can still adjust your bid price after your Product Search Ads have gone live.




Here are some strategies for selecting keywords, match types and bid prices based on your objectives:

Increase exposure

Use at least 10 keywords per product, including synonyms or variations of keywords relevant to your advertised product. For example, for the product below, you can use "shoes", "sneakers", "sports shoes", "sporty shoes", "outdoor shoes", "dance sneakers", "dance shoes", etc.







Choose all relevant keywords suggested by the Shopee system and add your own.

You can always optimise your ads afterwards by removing keywords that have performed badly.

Use Broad Match for your keywords to reach a wider audience.

Bid competitively and try the suggested bid price.




Increase sales
Use a combination of Broad Match and Exact Match to maximise traffic to your product detail page, where shoppers make purchasing decisions.
For a start, bid for popular and relevant keywords that shoppers would use to look for your product, such as "sweater" or "pullovers".
For Broad Match, use generic, popular and relevant keywords that shoppers would use to look for your product, such as "sweater" and "Adidas sweater".
For Exact Match, use specific and relevant keywords that shoppers would use to look for your product, such as "Adidas sporty sweater" or "Adidas blue sweater".
To save costs, only bid for keywords that are directly relevant. For example, if your item is an iPhone 8 case, bid for "iPhone case" or "iPhone 8 case", not "iPhone" or "iPhone 8".
Bid competitively and try the suggested bid price.




Increase profit

Target the most relevant keywords shoppers would use to look for your product.

Include highly specific keywords such as "dark-roast coffee" instead of "coffee".

Highly specific keywords tend to be cheaper per click and can attract more relevant shoppers to your product.

Focus on using Exact Match to drive relevant traffic to your product.

If more ad exposure is needed, use Broad Match but set to a lower bid price.




How do I set up and edit Product Search Ads step by step?

Please refer to the user guide.




Can I set up and modify my Product Search Ads via Shopee app?

Yes, you can now set up and modify your Product Search Ads using Seller Centre via browser or Shopee app. Please refer to the user guide.

Was this page helpful?

Yes

No